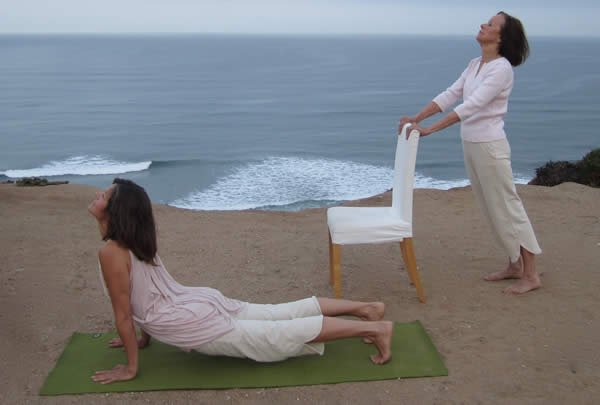 The Fountain of Youth Exercises
Friday, January 20
12 p.m. (PT)/2 p.m. (Central)/3 p.m. (ET)
A Live & Online Broadcast

www.Beyond50Radio.com
For
Beyond 50's
"Natural Healing" talks, listen to an interview with
Naomi Call
. You'll learn about 15-minute exercises that are the secrets to aging gracefully. She draws upon the wison of Tibetan monks, yoga, chi practitioners and indigenous people. She even offers advanced inforamtion for seasoned practitioners of Do-In (an ancient technique of self-massage that strengthens the chi and warms the body from the inside out), Tibetan Five Rites, breathing exercises and more.
To Hear the Live Broadcast, Click on This:

Beyond 50
*Subject to change. To join in the conversation during the live broadcast, call (724) 444-7444. When asked for the Talk Shoe ID, dial 59781#, and for the last code, press 1#. If you happen to miss any of the interviews, it is available through our
archives
.
David Pearce Snyder:
Futurist Trends to Watch For
For

Beyond 50's

"Emerging Trends" talks, listen to an interview with

David Pearce Snyder

. He is a popular futurst and contributing editor of "Futurist" magazine. Snyder has an encyclopedic knowledge from compiling a multi-million item database of trends and projections. He uses this database to create detailed scenarios - "instant pre-plays" of the most probably combinations of economic, technologic and social realities that specific industries, institutions, individual communities or nations are likely to encounter in the next 5 - 15 years.
To Hear the Past Recording, Click on This:

Episode 264
The Universe from Nothing
For

Beyond 50's

"Science" talks, listen to an interview with

Lawrence Krauss

. He will discuss about the current picture of the Universe, how it will end, and how it could have come from nothing. The latest physics research into the origins of the Universe shows that, not only can our universe arise from nothing, but more generally, the laws of quantum mechanics and relativity imply that something will generally always arise from nothing. Even space, and the very laws of physics, may so arise.
To Hear the Past Recording, Click on This:

Episode 356
Join in the Conversations!



Beyond 50

encourages you to

join in the conversations

with renown guests who are bestselling authors, celebrities, experts and visionary leaders from around the world.
Our Upcoming Interviews:
Body Worlds: The Brain & Seizures (Jan. 26);

Transition to the Golden Age in 2032 (Jan. 27)

; How We Love Now (Feb. 3);

Date Therapy: Unlock Your Subconscious Mind (Feb. 8)

; How to Love Yourself (Feb. 9);

Sunil Varma: Transformational Hypnotherapy (Feb. 23)

; The Seeker, The Search, The Sacred (March 2);

I Know Who You Are and I Saw What You Did (March 9)

; The 7 Minute Solution (March 16);

The Thirteenth Step (TBA)

; The Age of the Platform: How Amazon, Apple, Facebook and Google Have Redefined Business (TBA);

Debbie Merrill: Spring Cleaning Your Diet (TBA)

; Inside Apple (TBA).
*Tune in to Beyond 50 Radio: America's Talk Show for Baby Boomers at

www.Beyond50Radio.com

and sign up for our free e-newsletter.