Game Frame: Using Strategy for Success

Friday, May 13
12 p.m. (PT)/2 p.m. (Central)/3 p.m. (ET)
A Live & Online Broadcast
For
Beyond 50's
"Personal Growth" talks, listen to an interview with
Aaron Dignan
. He makes a unique and compelling case for how digital gaming strategies can be applied to corporate performance. He makes strategies of video gaming immensely approachable - if not mandatory - to growing a business. Many bosses, teachers, and parents fall prey to fear-mongering and worry that games are at best a useless distraction, and at worst a serious impediment to learning and productivity.
To Hear the Live Broadcast, Click on This:
Talk Shoe
*Subject to change. To join in the conversation during the live broadcast, call (724) 444-7444. When asked for the Talk Shoe ID, dial 59781#, and for the last code, press 1#. If you happen to miss any of the interviews, it is available through our

archives

.

Labyrinth: A Soul's Journey
For

Beyond 50's

"History" talks, listen to an interview with

Jodi Lorimer

. Find out about the Labyrinth in the Paleolithic. The first modern humans in Paleolithic Europe painted the labyrinth journey to the Otherworld on the walls of deep caves (in photo above) over 32,000 years ago. Ancient shamans mapped the route of the labyrinth revealing the complex minds and spirit of a sophisticated people. To understand the significance of this mythological symbol requires that we dig into the very core of human experience and tread the paradoxical paths of belief and biology, history and myth, and discover where they cross over into transcendence, at the Center.
To Hear the Past Recording, Click on This:
Episode 229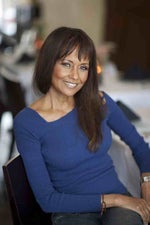 Soak Your Nuts:
Bodily Cleansing with Karyn Calabrese
For

Beyond 50's

"Natural Healing" talks, learn from


Karyn Calabrese

(nearing 70 years old at right)

about how she used raw food and detoxification to heal herself of illness, fatigue, and allergies. Her book features her Nature's Healing System, a 28-day program that has helped thousands of her students overcome weight issues, skin problems, fibromyalgia, insulin dependence, insomnia, sinusitis, and countless other health problems.
To Hear the Past Recording, Click on This:
Episode 305
Gaming for Peak Performance
Beyond 50
encourages you to tune in and join in the conversation with

Aaron Dignan of "Game Frame."

Business owners and managers can learn the Art of (Video) Gaming Strategy to produce peak learning conditions and accelerated achievement.

If you've every experienced burn out or boredom at work, then find out how to address the root cause of it through the psychology of game mechanics.
According to Dignan, we may be living in the Golden Age of Games. That is, this may be the last moment when games are still relatively distinct from real life and the rest of our media landscape.
The ground has already started to shift beneath our feet. If you played Pac-Man in 1975, you weren't thinking about a Pac-Man movie or comic book spin-off. You weren't reading about Pac-Man being acquired in the "Wall Street Journal." Nor were you connecting with friends halfway across the world inside the maze of the game. And you certinly weren't accessing Pac-Man multliple times a day from your numerous mobile devices. You were just playing a video game, pure and simple. For better or worse, the days of pure and simple are numbered.


*Tune in to Beyond 50 Radio: America's Talk Show for Baby Boomers at

www.Beyond50Radio.com

and sign up for our free e-newsletter.