Single Payer Healthcare Now!
Friday, December 11
12 - 1 p.m. (PT)/3 - 4 p.m. (ET)
A Live & Online Broadcast


www.Beyond50Radio.com
For

Beyond 50's

"Medical Care" talks, listen to Katie Robbins and another representative from

Healthcare Now National

. The organization believes that a Single Payer Plan is the only realth path to a Health Care System that is socially, ethically, and fiscally responsible. And yet, our elected officials refuse to even discuss the possibility of a Single Payer Plan!
To Hear the Live Broadcast, Click on This:
Talk Shoe
**Subject to change. To join in the conversation during the live broadcast, call (724) 444-7444. When asked for the Talk Shoe ID, dial 59781#, and for the last code, press 1#. If you happen to miss any of the interviews, it is available through our

archives

.
Master Herbalist, Susan Weed:
Herbs for the Swine Flu
We've had this dynamic woman on before. For

Beyond 50's

"Natural Healing" talks, listen to an interview with master herbalist,

Susun Weed

. She's back to talk about how to treat the swine flu herbally. You'll want to hear why she gives the counter-intuitive advice of not building your immune system as a defense against the virus.
To Hear the Past Interview, Click on This:
Episode 198
Beyond 50 only recommends films that are creatively responsible to reveal the finest qualities of the human spirit; allow you to think and feel deeply about life; make your heart soar; and champion human rights.
Avatar

Wounded and paralyzed from the waist down, ex-Marine Jack Sully regains wholeness again by becoming an Avatar: a genetically-engineered human-Na'vi (alien) hybrid that he takes virtual control over the being through a mind link. His military mission: interact with the aliens of planet Pandora to take their precious mineral resources. Jake's viritual self interacts with the inhabitants and falls in love with a Na'vi woman named Neytiri. He begins to question the purpose of his military mission and is drawn into a fierce batle of survival of her world.
(Available in theatres on Dec. 18; Genre: Sci-Fi, Action, Fantasy, Adventure; Runnning Time: 2 hrs., 30 min.)
Collapse
This is
an absolute must-see film
that features Michael Rupert, a former LA police officer turned independent reporter. His alarmist views are about the dangers ahead: further collapse of the global monetary systems, peak oil (decline of cheap oil) causing a steep rise in prices to the point of being unaffordable, genetically engineered foods, and our society collapsing. We will not only be violently downsized, he explains, but the only way through this is to ride out the collapse.
(Available in select theatres; Genre: Documentary; Running Time: 82 min.)
The Princess and the Frog
This

charming and visually beautiful film

is a return to Disney's animation "roots," where the cartoon characters were hand-drawn and a good story at the heart of it. Uniquely, it is also the first racially diverse film where the princess is Black instead of "snow white." Set in New Orleans during the Roaring 20's, you'll love the characters and upbeat music that blends jazz and blues.
(Available in theatres everywhere on Dec. 11; Genre: Cartoon, Romance, Family; Running Time: 82 min.)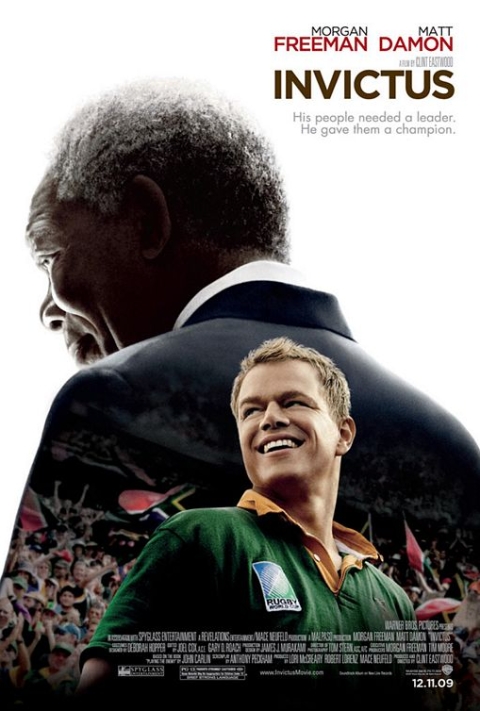 Invictus

This is an inspirational work and great sports film by Clint Eastwood.

"Invictus" (which means "unconquered")

is based on the true story of President Nelson Mandela's first years as president during the 1990's. Taking a huge political risk, he strategically used his country's love for rugby to unify the blacks with the whites. The national team's mission was to win the 1995 World Cup in a match between South Africa and New Zealand.
(Available in theatres everywhere on Dec. 11; Genre: History, Biography, Drama; Running Time: 134 min.)
*

Beyond 50's
Note:
We also recommend that you see the film
"Precious."
Double Feature:
Beyond 50's
Video
Reconnective Healing
with Pamela Olzman
For

Beyond 50's

"Natural Healing" talks, watch a video interview with

Pamela Olzman

, a practitioner of The Reconnection. Developed by Dr. Eric Pearl, she will explain about this unique form of Energetic Healing that you can use for accessing an all-inclusive spectrum of frequencies for your health and well-being. Dr. Pearl is recognized worldwide as a miraculous healer. For 12 years, he practiced chiropractic medicine and many of his patients reported spontaneous healings from him without being touched.
To View the Video Interview, Click on This: The Reconnection

*Tune in to Beyond 50 Radio: America's Talk Show for Baby Boomers at
www.Beyond50Radio.com
and sign up for our free e-newsletter.