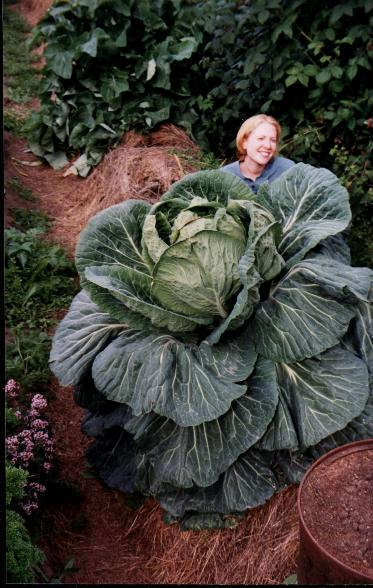 Growing an Organic & Giant Garden
Friday, April 24
12 - 1 p.m. (PT)/3 - 4 p.m. (ET)
A Live & Online Broadcast


www.Beyond50Radio.com
For Beyond 50's "Gardening" talks, listen to a seasonal interview with Roland Evans of Bountea. He is part of a long line of family gardeners from Ireland, going back to the 1890s. His brother John is famous for earning 9 Guiness Book of World Records for growing the largest vegetables. According to him, the secret is in the soil. He will talk about how to prepare your springtime plantings for growing them organic and enormous through revitalizing the soil using a compost tea of lots of micro-organisms.
To Hear the Live Broadcast, Click on This:
Talk Shoe
**Subject to change. To join in the conversation during the live broadcast, call (724) 444-7444. When asked for the Talk Shoe ID, dial 59781#, and for the last code, press 1#. If you happen to miss any of the interviews, it is available through our

archives

.
Joyce & Barry Vissell: Relationship as Conscious Path
For
Beyond 50's
"Personal Growth" talks, listen to Joyce and Barry Vissell, bestselling authors and sought-after speakers of the

Shared Heart Foundation

. Since 1972, they have been counseling and teaching their heart-based approach. They are dedicated to bringing consciousness to all our relationships. Every relationships, they maintain, serves as a mirror in which we can see and understand the deeply hidden parts of ourselves.
To Hear the Past Recording, Click on This:
Episode 130
Optimal Aging with Natural Hormone Therapy
For

Beyond 50's

"Natural Healing" talks, listen to an interview with

Dr. Kathryn Retzler of Hormone Synergy

. She is a national authority on bio-identical hormone replacement therapy (BHRT). She'll talk about slowing down the ravages of aging from hormone imbalance and depletion by naturally balancing them.
To Hear the Past Recording, Click on This:
Episode 87
The Soul of the Heart
For

Beyond 50's

"Spirituality" talks, listen to an interview with

Catherine VanWetter

, author of "The Soul of the Heart" and meditational CD. She offers many heart-based thoughts that you can contemplate on to help you reconnect with your inner essence for self-healing.


To Hear the Past Recording, Click on This:
Episode 85
PG-50+ Movie Reviews
Beyond 50 only recommends films that are creatively responsible to reveal the finest qualities of the human spirit; allow you to think and feel deeply about life; make your heart soar; and champion human rights.

Monsters vs. Aliens (in 3-D)

If you need a good "pick me up," this movie will do the trick. It's absolutely hilarious! The

retro-style film

features nerdy monsters resembling those from B-rated, sci-fi movies of the 1950s: The Creature from the Black Lagoon (The Missing Link), The Blob (B.O.B.), The Attack of the 50-Foot Woman (Ginorca), The Fly (Dr. Cockroach, Ph.D.), and Mothra of "Godzilla" (Insectosaurus). Instead of attacking the innocent, they are enlisted by General W.R. Monger to save the world from the alien megalomaniac, Gallaxhar, along with his Alien Robot and army of clones.
You'll want to see the 3-D version.
(In theatres everywhere; Genre: Animation, Action/Adventure, Comedy; Running Time: 1 hr., 34 sec.)
Anvil! The Story of Anvil
You can't help but make comparisons of this documentary to the classic, "This is Spinal Tap." At 14, best friends Robb Reiner and Steve "Lips" Kudlow, start a heavy metal band called

Anvil

. They experience a brief flash of fame in Canada during the early 1980s, touring with Whitesnake and Bon Jovi. They go from spectacular beginnings to obscurity through the decades.
The friends keep their pact to rock together forever.
The film is funny, inspirational and poignant.
(In select theatres; Genre: Arthouse/Foreign, Documentary; Running Time: 1 hr., 30 min.)
Dr. Bronner's Magic Soapbox

This is a fascinating documentary on

master soapmaker Dr. Emmanuel Bronner

, a self-proclaimed rabbi and Albert Einstein's nephew. After escaping the mental institution, he created a pure castile, all-vegetable soap formula that is still popular today and can be found in health food stores. The product's famous label is a "sea of words" about his philosophy "The Moral ABC" and the saying, "To Unite All Mankind Free." In the film, his son explains about the unique legacy he left behind and enduring 15 orphanages and foster homes as a child.
Currently, the family business brings in millions of dollars in profits every year.
(Available on DVD; Genre: Documentary; Running Time: 88 min.)
Quantum Hoops
This is a perfect film for basketball fans who can't wait for the NBA Finals. Released back in 2007 as a documentary, you'll be rooting for this awful team of academically gifted brainiacs from Cal Tech. They have one week left in their 2006 season to break a

21-year losing streak

(over 240 consecutive losses). The last time their school won a single game was back in 1985. Cal Tech's team has more high school valedictorians than varsity players. And, the school boasts 31 Nobel Prize winers - the highest ratio of winners to alumni in the world. You'll have to see the nail-biting results of their last game.
(Available on DVD; Genre: Documentary, Sports; Running Time: 88 min.)
*Tune in to Beyond 50 Radio: America's Talk Show for Baby Boomers at

www.Beyond50Radio.com

and sign up for our free e-newsletter.