Beyond 50
on Spring Break!

Friday, April 3
No Live Broadcasts Today


www.Beyond50Radio.com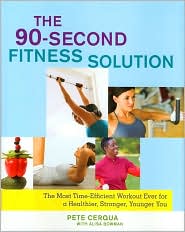 Pete Cerqua: 90-Second Fitness Solution
(Part 2)

For Beyond 50's "Fitness" talks, we've brought back

Pete Cerqua

, an amazing trainer! His brilliant 15-minute-per-week workout promises to beat cardio at shedding pounds and reduce bodies by a half-dress size without changing food choices. It even accelerates the metabolism. His simple exercises, which only require resolve, a wall and a floor, are done in 90-second repetitions using pauses and holding weights in key positions, rather than slow movements. He busts myths about working out, up and down the fitness spectrum.
To Hear the Past Recording, Click on This:
Episode 125
Engaging the Muslim World
For Beyond 50's "Political" talks, listen to an interview with

Juan Cole

. He is the leading national authority on foreign policy between the Western and Muslim World. His ideas to improve relations include a constructive withdrawal of troops from Iraq as the only way forward, and may actually be the best catalyst for a compromise between the Shiite government and Sunni Arabs; Iran as not being the incorrigible enemy; Green Energy is the next step, but will require the cooperation of the old fossil fuel producers with the consuming nations; and more.


To Hear the Past Recording, Click on This:
Episode 80
*Tune in to Beyond 50: America's Talk Show for Baby Boomers on
www.Beyond50Radio.com
and sign up for our free e-newsletter.
Get a World-Class Educatio
n on

Beyond 50
For the last 5 years, we've interviewed hundreds of bestselling authors, celebrities and experts from all over the world. They want to hear from you, so

tune in

and join in the conversations!



Beyond 50

is currently syndicated on 150+ podcast networks and directories. Live broadcasts are every Friday at 12 p.m. (PT)/3 p.m. (ET) on

www.Beyond50Radio.com

.

Some Upcoming Interviews:
My First 100 Marathons (April 3); The Coming Great Depression (April 9); Natural Equine Therapy (April 10); Life Beyond Death (April 15); So You Want to Join the Peace Corps (April 15); Little Grandma Selina of the Wabanaki People (April 17); Building a House of Straw (April 23); Growing an Organic & Giant Garden in Springtime (April 24); Transformational Speaking (May 28).